Kindletrends is market research for the Kindle Store in a newsletter. Subscribe for USD15/month (the first month is free) and every week I'll send you data-rich newsletters on major categories in the Kindle Store.
Find out what's trending, right from your inbox
If you want detailed information about your genre, Kindletrends speeds up your research. I get all the information for you, summarise it in straightforward charts, and deliver it to you every week.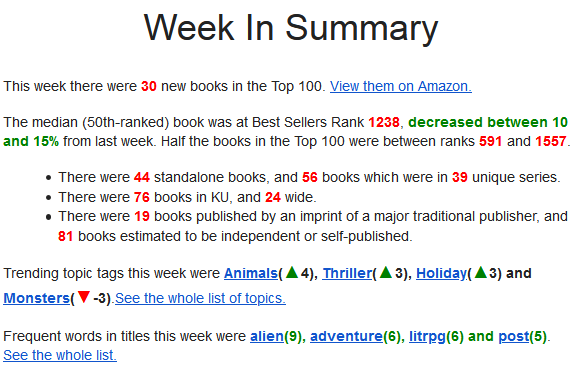 You spend 100% of your research time on gaining knowledge, and 0% on repetitive work. Choose as many categories as you want for one price, and get all the back issues here on the website.
Make your covers and blurbs to-market
See what's selling in your genre right away, and compare your own titles. Every week and month you get downloadable montages of the top covers, and lists of the most popular words in titles, subtitles and blurbs, plus links to the store so you can access the books.
Make ads quickly and easily
Target books in your genre with AMS ads using the downloadable data provided for you. Every week, I send you a spreadsheet of titles, keywords and blurbs for the top books, ready for upload to your Amazon Marketing Dashboard.
Who makes it and why?
Me, Nat Connors. I've been a self-published fiction author since 2016, and I'm also a research academic and data scientist. Most importantly, I work at writing every day; I use the information in Kindletrends myself to help me outline, write and launch my own books. I started doing this for myself back in 2016, then started sharing it with my friends to help them out – and now I want to share it with the self-publishing community as a whole.
My promise
I'll always give you clear explanations for how the data in Kindletrends is collated, and I'll never take advertising or any kind of sponsorship. I'm not a company, I'm a person; your money goes to help pay for my groceries.
I want Kindletrends to be obvious value for you; that is, it should clearly and obviously pay for itself, every single month. If it doesn't, I'll just give you back your money.
Do you want to try it for free for a month? Subscribe using the button below, and find out if it's useful for yourself.
Do you want to know more about what to do with the data? Go here and I'll give you some ideas.
Do you really like it, but you're not making any money yet, and so you can't justify the expense? Go here, and let's talk.
Got questions about how it works? Here's the FAQ.
If that doesn't answer your question, or doesn't make sense, email me, and I'll tell you all about it.